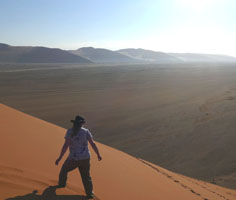 Photo of Linda descending
Namibia's Dune 45
Where do I begin to describe a month in Africa? It was awesome. With the two of us having our own private guide, we were able to linger and appreciate all the wildlife South Africa and Namibia has to offer. If we wanted to pause to watch a Secretary Bird or venture out to find Desert elephants, we could and we did. A climb up Dune 45 in Namibia and a 1000' climb up to a remote cave in South Africa which held 500+ year-old Bushman pots helped us make the most of our trip.
We saw the usual big animals: lion, cheetah, elephant, giraffe, cape buffalo, kudu, gemsbok, and zebra. Some additional surprise sightings were both black and white rhino, mountain zebra, sable, an albino black-backed jackal, and the most adorable one month-old lion triplets with their mom coming for a drink of water. We saw thousands of Cape Fur Seals and tens of thousands of greater and lesser flamingos. This has to be one of my favorite trips to Africa!